Machine Functions
1. Feed pellets can raise rabbits, chickens, ducks, geese, fish, pigs, cattle, sheep, and aquatic products.
2. Feed Pellet Mill with Ring Die is a good choice for Animal Feed Pelletizing.
3. The size of the pellets can be changed by changing the mold.
4. The raw material enters the steel mold. The rotating roller is pressed into the working chamber, embedded in the die hole, extruded from the outer wall of the steel mold, and cut into cylindrical particles by a cutter.
Product Features
1. The machine has a long service life because of made of wear-resistant material
2. Adjustable compression rate, the pellet mill can meet different pelletizing requirements and is available to press coarse materials.
3. The pelletizing process is visible, so it is convenient to solve problems in time.
4. Simple structure, low consumption, small area coverage, easy operation, and maintenance.
5. poultry Feed size can be adjusted according to grinding tool size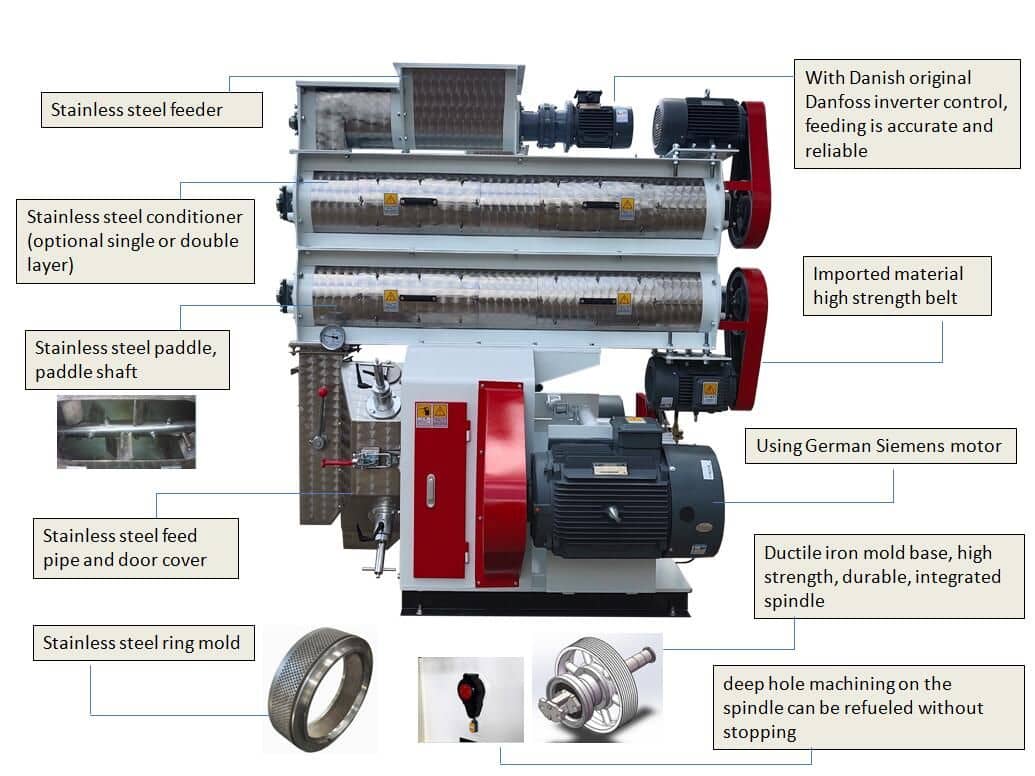 Product Parameter
| | | | | | | |
| --- | --- | --- | --- | --- | --- | --- |
| Model | Main power(kw) | Capacity | Feeder Power(kw) | Conditioner power(kw) | Dimension(mm) | Weight(kg) |
| LM250 | 22 | 1-2 T/H | 0.75 | 1.1 | 1700*650*1750 | 715 |
| LM320 | 37 | 2-4 T/H | 0.75 | 2.2 | 1800*1550*1650 | 1400 |
| LM350 | 55 | 2-6 T/H | 0.75 | 2.2 | 2150*1950*1900 | 2000 |
| LM400 | 90 | 3-8 T/H | 1.5 | 4 | 2300*2000*2020 | 2500 |
| LM420 | 110 | 4-12 T/H | 1.5 | 4 | 2300*2330*2090 | 3200 |
| LM508 | 132 | 4-18 T/H | 1.5 | 5.5 | 3350*2350*2200 | 4300 |